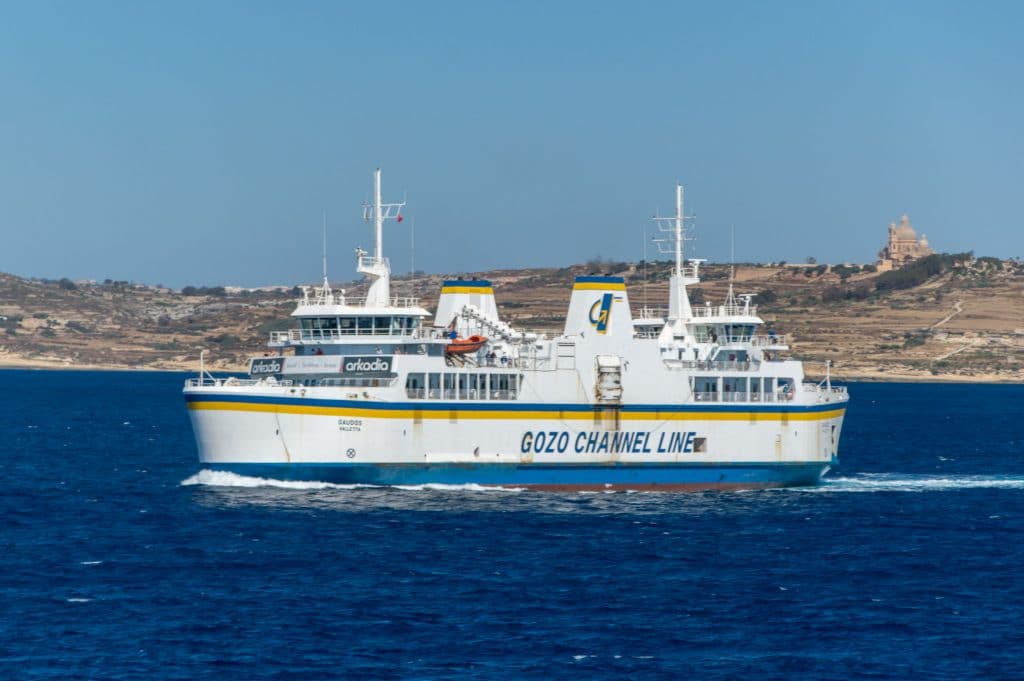 A visit to Malta is not complete until you know the island of Gozo. Traveling to the second Maltese island is very easy, you just take the inexpensive ferry to Gozo and enjoy the views.
The Gozo Channel company was formed in 1979. So, it has a lot of experience carrying passengers and vehicles in the beautiful Mediterranean sea of Malta. All ferry boats are very modern and safe. Inside you will find a café and a shop where you can buy souvenirs, books, magazines and Malta guides.
Photo of inside ferry boat to Gozo Island in Malta
Gozo Ferry Boat Information
Schedule – every 45 minutes all year round. Ferry boats operate also at night but during this period they are less frequent in winter.
Departure – Cirkewwa, Malta (return boat leaves from Mgarr, Gozo)
Time – 30 minutes
Ticket prices – All return, round trips
Passengers standard fare – €4.65
Children 3-12 – €1.15
Children under 3 – free
Car and driver standard fare – €15.70
Motorcycle and driver standard fare – €8.15
Bicycle standard fare – €1.15
Getting to Cirkewwa (Gozo Ferry Boat Terminal)
By CAR
An excellent way to explore Gozo is to rent a car in Malta's main island and take it with you on the ferry. This will allow you maximum flexibility to discover everything Gozo has to offer before returning on a late ferry to the main island. Cirkewwa is in the northwest of Malta. Keep driving in that direction following the signs to "Gozo Ferry".
By BUS
Valletta – Cirkewwa (Gozo Ferry Boat Terminal) – Bus route number 45
Sliema – Cirkewwa (Gozo Ferry Boat Terminal) – Bus route number 645: Sliema – Balluta – St Julian's – Paceville – St. George's – St. Andrews Splash & Fun Park – St. Paul's Bay – Xemxija – Mellieha Centre – Mellieha Bay – Popeye Village – Cirkewwa
Bugibba – Cirkewwa (Gozo Ferry Boat Terminal) – Bus route number 48: Bugibba/Qawra – St. Paul's Bay – Xemxija – Mellieha Centre – Mellieha Bay – Popeye Village – Marfa – Paradise Bay Hotel – Cirkewwa
Airport – Cirkewwa – Take the bus to Valletta and then the 45 to Cirkewwa. In alternative, use mini bus services you can book in advance that take you directly to the Gozo Ferry Boat Terminal in Cirkewwa, starting at about €10 for passenger and getting cheaper the more people are on the bus.
If you have any doubt concerning ferry boats to Gozo (or from Gozo), contact the Gozo Channel Company:
at Mgarr: (Gozo) (+356) 21556114
at Cirkewwa (Malta): (+356) 21580435
at Sa Maison (Malta): (+356) 21243964
Step-by-step Instructions to Gozo Ferry Boat
Follow these quick and easy instructions in how to travel by ferry boat from Malta to Gozo Island. Take a step-by-step photo tour of the whole process.
When you get to the ferry boat bus terminal, you have to go straight and right and enter the little ticket office just where you will buy a ticket to Gozo ferry boat.
Inside the ticket office you can buy either a round-trip or one-way ticket to Gozo. We advise you to buy the round-trip ferry boat ticket that costs 4.65 euros. After you purchased your ferry ticket you have to follow the arrows to go to the ferry boat waiting terminal.
This is the place where you will wait for the next Gozo ferry boat. Everyone profits to take some sun, read some Malta guide book, eat something or just relax until the next boat arrives. As you can see on the picture, many people travel by car to Gozo as the ferry-boat also transports vehicles around the archipelago.
When the next ferry boat to Gozo is ready and the entrance gate opens you can directly walk straight to the boat.
You will enter the boat on the same gate as vehicles do. Pay attention to the port employees as they will instruct you. This kind of trip is fun and in some way adventurous.
You can see Cirkewwa from inside the ferry boat. After you go inside the boat and all the vehicles are parked, the boat starts its engines and gets ready to departure and head to Gozo Island.
The whole boat trip to Gozo is fantastic and the Mediterranean sea views are gorgeous. You can enjoy a nice boat ride between Malta and Gozo, have great fun and enjoy a fabulous travel experience.
Arriving in Gozo is great and the views of Mgarr harbor are just amazing. You will go down the stairs and wait for the boat staff to instruct you until you can go out of the boat. Enjoy Gozo Island!