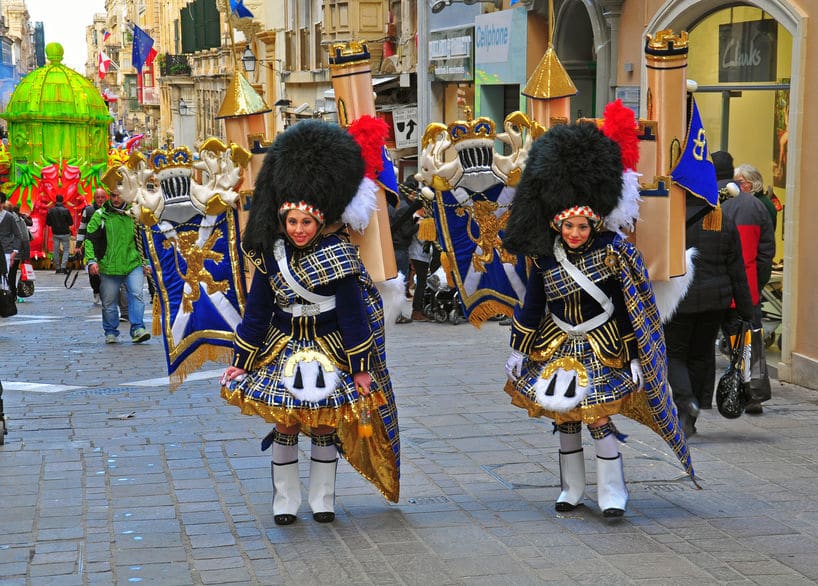 Festivals and events in Malta happen all year round and meet every taste of both tourists and the Maltese. Expect to find local and international events, entertainment, exhibitions, Carnival and Summer festivals, annual arts and music festivals. In other words, everything from religious festivities to world-famous music festivals and traditional village feasts or national holidays to food and wine festivals. In Malta there's much more to do besides enjoying the beaches or discovering Maltese history in its monuments.
Check out this list of the best Festivals and events in Malta, organised by date, and decide when to buy your plane ticket to Malta. Like it's been said before, the Maltese islands are so small that it is very easy to find transport and travel anywhere. No matter where your hotel in Malta is.
Alarme! (February-November)
Alarme! is a one-hour event held at Valletta's historic Fort St Elmo, re-enacting the day in 1798 when Napoleon's revolutionary fleet was sighted on the Mediterranean Sea. Only two years later, the Maltese rebelled against the unpopular French. This is one more great event to get to know Malta's history. The show starts at 11am on the third Sunday of the month and costs €5.
Carnival in Malta and Gozo (February or March)
Carnival in Malta has been an important event for five centuries, since its introduction on the islands by the Order of St John. In the beginning, Carnival was officially celebrated in Birgu, Valletta, where some knights played in tournaments.
Nowadays, Carnival in Malta is celebrated in many towns and villages, but specially in Valletta, Floriana and Nadur (Gozo). During the week preceding Ash Wednesday, the Maltese have masked balls, masquerade competitions, wild late-night parties, marching bands and parades of allegorical cars presided by King Carnival. The whole officially sponsored event finishes with a major fireworks show in the main street of Floriana. In Gozo Carnival is weirder, funnier and more macabre, following the tradition of this Maltese island.
The Mediterranean Food Festival (March)
This festival held by the Malta Tourism Authority is a successful Maltese food and drink extravaganza. Local and foreign chefs serve you the best food the Mediterranean region has to offer during a four-day festival. Did you love the Maltese food you tasted so far? Go to this event and understand its origins and how it influenced the culinary of other countries.
Freedom Day (March 31)
Freedom Day is a Maltese holiday. The events take place at the War Memorial in Floriana and traditional regatta boat races are held in the Grand Harbour of Valletta.
Holy Week (usually in April)
As you can see in Malta's history and the many churches in Malta and Gozo, the Maltese are very devoted Christians. So, Holy Week is an event they take seriously. This religious celebration takes a lot of Maltese to church to commemorate the passion, death and resurrection of Christ.
Holy Week starts on the Friday preceding Good Friday, with the life-size Statue of Our Lady of Sorrows being carried and followed in procession through the streets of many towns and villages in Malta by hundreds of parishioners dressed in costumes that mimic clothes from the Old Testament.
Similar processions are held on Good Friday and Easter Sunday. In this last one the statue of the "Risen Christ" is carried and smiling people follow it together with a marching band, celebrating the resurrection of the son of God.
Malta International Fireworks Festival (late April)
The Malta International Fireworks Festival is an amazing event celebrated every year to display Malta's firework factories expertise. They do it so well because Malta has a long tradition of fireworks since the time of the Order of the Knights of St John, when explosives were used to celebrate special occasions. Fireworks then developed into a craft during the period of Malta's history in which the British ruled.
The Malta International Fireworks Festival is an event organised by Maltese tourism and cultural authorities, which invite Maltese and foreign fireworks factories to give an incredible show of light and music for two days. The event takes place in the Grand Harbour of Valletta. Get there early and get a place in Barriera Wharf to have the best point of view of the entire festival.
Village Festas (May-September)
If you like local festivities or festivals, Malta is the place for you. The Maltese have more than 75 local village feasts during the summer. These originally religious festivities are in honour of the town's patron saint. All events like this in Malta have fireworks, religious processions and brass band music marches, which are all very fun to watch. These events are so popular among tourists that a few local tour operators even organise trips to some of the most popular "festas". Catch a glimpse of what Malta is all about, specially in the main events of Saturdays and Sundays.
Malta International Jazz Festival (July)
This international festival in Malta is organised every year since 1990. The three-day event always features top musicians that Jazz lovers will recognize. Expect to find a mix of Jazz styles performing under the beautiful Maltese night sky in the historical location of Ta'Liesse, in the Great Harbour of Valletta. Even if you are not a Jazz fan, the setting of this great festival in Malta is something not to be missed.
The Farsons Great Beer Festival (late July)
The Farsons Great Beer Festival claims to be the biggest and most diverse free outdoor festival in Malta. Of course it is sponsored by Farsons, a Maltese brand which sells the beer produced and imported by them. But this is an event for the whole family in a popular environment with around 40 live bands performing on two stages, kids' Fantasyland and a lot of Maltese food and drink. The festival starts at 8pm everyday, in Ta'Qali park. Entrance and parking is free.
Malta's Delicata Wine Festival (early August)
The first edition of Malta's wine festival was in 2002. This Maltese event is the way the country celebrates the beginning of the wine harvest. It offers visitors a wide range of quality wines from Malta and Gozo in the beautiful setting of the Upper Barrakka Gardens, once again in the Grand Harbour of Valletta.
To have a taste of Maltese wine production in the festival, simply buy a glass at the entrance (which you take home as a souvenir and costs around €10). Then try as many wines as you want, if you're over 18. Open 7pm-11.30pm, in the event you can also buy bottles of wine or try international and Maltese food while watching renowned artists perform live. Another event within the festival is the annual wine regatta, which takes grapes from the waterfront's winery to the grape crushers in the Upper Barrakka Gardens.
In the first days of September, a sister event of Malta's Delicata Wine Festival is held in Nadur, Gozo. The concept is exactly the same but this one celebrates the closing of the Maltese grape harvest.
Ceremony of Our Lady of Victories (September)
This event celebrates the lifting of the 1565 siege against the Turks, the capitulation of the French in 1800 and the end of the siege of the Axis powers in 1943, all part of Malta's history. On the same day, Valletta's Grand Harbour is the scenery to a traditional regatta of colourful boats.
Independence Day (September 21)
Independence Day is celebrated every year since 1964, when Malta attained its independence from the UK. Several events take place in different settings.
Malta International Airshow (late September)
The first edition of this Maltese Air Festival was back in 1993. Throughout the day (10.00-18.00h), on land, visitors have access to some of the Luqa Airfield ramps (south of Valletta), watch the many types of civil and military aircrafts on display or chat with the pilots in The Malta International Airshow. You even have aircrafts from World War II, in which Malta played a vital role.
Up in the air, parachute teams perform as well as a lot of planes from different eras. The Red Arrows squadron and RAF planes such as Harrier, Jaguar and Hawk are regular visitors. There is also a "Merlins over Malta" feature event with the legendary Spitfire doing a fly pass over your head. Take your camera with you and enjoy this event in Malta.
Notte Bianca (White Night) is a free event that lasts all night, from 6pm-6am, in Valletta's public spaces. It is Malta's version of the open city concept that some other European capitals have one time a year. In Malta, Valletta's monuments, public and private art galleries and important building are open to visitors during all night, together with many shops and restaurants. Expect to find a lot of people enjoying Malta's history, the arts and folklore also shown in original events that cover music, theatre, cinema and dance.
BirguFest (October)
The BirguFest Festival in Malta was created to celebrate the past of Citta Vittoriosa (Birgu's old name) and show its history and beautiful architecture. But it soon became one of the biggest and best cultural events in Malta.
The festival lasts 3 days, in which activities held throughout the day consist of guided tours around the city, re-enactments, parades, traditional and modern musical concerts, exhibitions and food stalls offering not only Maltese food but also other tasty delicacies. Birgu's museums are open late, entrances are cheaper and some usually closed venues open to to public.
But the absolute highlight of this Maltese festival is Birgu by Candlelight, on Saturday night. Around 10,000 candles of all kinds light up the beautiful old Citta Vittoriosa, making it the most romantic place in Malta, at least for one night.
Festival Mediterranea (late October-November)
Festival Mediterranea is an event that turns the Gozo island into a big party that glorifies its cultural and artistic life. There are music concerts, walks and talks in ancient and historic places, field trips, food and drink events and art exhibitions.
Republic Day (December 13)
It celebrates the day, in 1974, when the constitution of Malta was substantially revised, changing its statute from Commonwealth Realm into a republic within the Commonwealth. This was when the Head of State ceased to be the Queen of England, giving way to the figure of the President of Malta. To commemorate the event, people have festivities on the streets and horse races are held at Marsa.
In Guardia Parades (almost all year round)
In Guardia Parades are colourful events in which actors show tourists in Malta how the inspection of the Fort St Elmo and its troops was actually made by the Grand Bailiff of the Order of the Knights of St John. Organised by Malta Tourism Authority, In Guardia Parades are performed by about 70 actors dressed in ceremony uniforms from that time of Malta's history, demonstrating the military power of the Maltese.
This event is held on Sundays in the Fort St Elmo, weather permitting. It starts at 11.00am and lasts around 40 minutes. Visitors buy their tickets at the gate: adults €5, children 6-12 and students €3.